Prestigious German architect Matthias Sauerbruch will chair the jury, which will be formed by the architects João Luís Carrilho da Graça, Luca Molinari, Manuel Gallego and Ramón Monfort; and the designer Tomás Alonso
The Spanish Ceramic Tile Manufacturers' Association (ASCER) is launching the twelfth edition of the competition. The jury comprises prominent national and international professionals as it does every year.

In this edition, the chairman will be the world renowned German architect Matthias Sauerbruch, founding partner of Sauerbruch Hutton with offices in Berlin and London. Matthias Sauerbruch is among 7 international architects bestowed with the AIA Honorary Fellowship 2013 of the American Institute of Architects (AIA). The jury will be also formed by a select group of subject matter experts. Portuguese architect, João Luís Carrilho da Graça, "chevalier des arts et des lettres" by the french republic in 2010; Luca Molinari, curator and producer in the field of exhibition and cultural events related to contemporary architecture, design and photograph; the architect Manuel Gallego, Gold Medal of Architecture 2010 in Spain; young designer Tomás Alonso, founding partner of OKAY Studio London, a collective of individual designers sharing a bit more than a workspace; and Ramón Monfort, of the Architects Association.

The registration is open and the deadline for handing in the projects is on the 29th of October 2013. The Awards have a prize fund of 39,000 Euros divided in three categories. The two main categories are Architecture and Interior Design, each one is awarded 17,000 Euros. The main requirement to participate is that the projects use ceramic tiles made in Spain. The third category is Degree Project category, which is aimed to students of Architecture and it is awarded 5,000 Euros. The jury may give two special mentions in each category as it considers the projects to be rewarded.

The rules for the competition and the application form for registration can be found on the website www.tileofspainawards.com where it is also available all the information regarding the current and previous editions.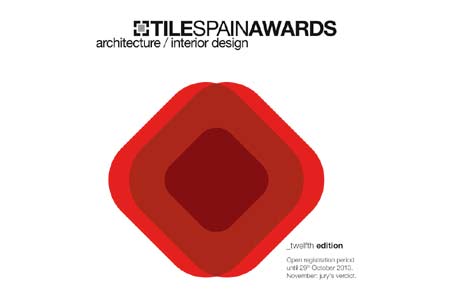 The best architects take part in ASCER Awards
In previous editions distinguished professionals have been part of the jury like Juan Navarro Baldeweg, Alberto Campo Baeza, William J.R. Curtis, Terence Riley, Eduardo Souto de Moura, Carlos Ferrater, Luís Moreno Mansilla, Patxi Mangado, Guillermo Vázquez Consuegra, Mathías Klotz and Benedetta Tagliabue.

There is an increasing bias towards the use of ceramics in architecture and interior design. More and more often, acclaimed professionals choose ceramic tiles in in some of their most significant works.

In recent years the competition has awarded a wide range of projects, recognizing the versatility of this material. Last year prizes went to the Catering School in a Former Abattoir and to the Granada's Teacher Training College (download of images, plans and memos of prizewinners 2011 at www.dossierpremiosceramica.com )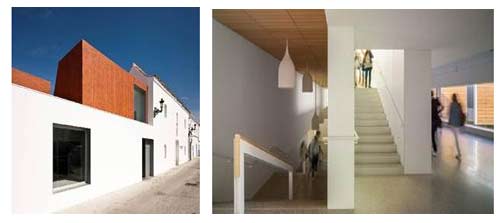 Other awarded projects in previous editions were: MUCA (Auditorium and Music House); Casa Collage in Girona; a residential building project in Barcelona by Bach arquitectes; the Benidorm West Beach Promenade; the rehabilitation of Santa Caterina Market in Barcelona by Miralles-Tagliabue; the Spanish Pavilion in Expo Zaragoza (2008) and in the Aichi Expo in Japan (2005), etc.

About the President of the Jury: Matthias Sauerbruch
Matthias Sauerbruch (1955 Constance, Germany) architect and founder -together with Louisa Hutton- of Sauerbruch Hutton (Berlin, 1989).
Matthias Sauerbruch is among 7 international architects bestowed with the AIA Honorary Fellowship 2013 of the American Institute of Architects (AIA) He is visiting professor at the Berlin University of the Arts, and visiting design critic at Harvard Graduate School of Design (EEUU)

Sauerbruch Hutton is concerned with the creation of functional, sensual and conscientious architecture with individuality and personality. The practice is noted for its synthesis of colour in the design process, and for the use of fluid curvilinear forms with the Brandhorst Museum (Munich) as prime example.

Closing date for entries:
29th October 2013
For further information visit http://www.tileofspainawards.com or contact premios@ascer.es www.premiosceramica.com